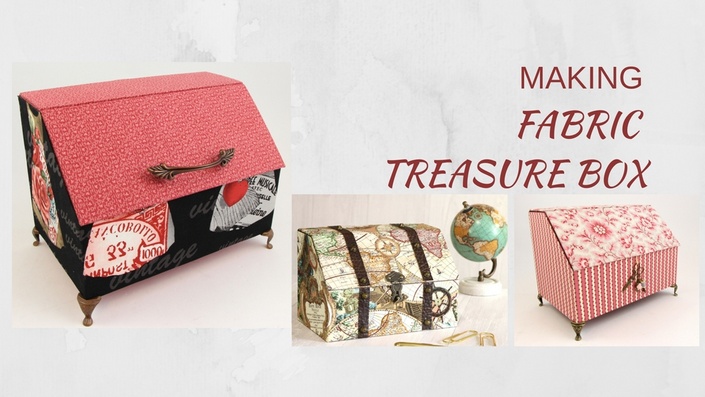 Making a fabric Treasure box
Learn how to make a unique fabric box, a Treasure box, using cartonnage technique. So fun! Great gift!
Cartonnage "the art of box making" is an amazing technique! In this course you will learn how to make a special and unique fabric covered box called "Fabric Treasure box".

This box can be used to keep stationery, pen, pencils, letters, sewing notions, nail supplies and so much other things. Also it is a great handmade gift!
You will have fun and learn how to make this box watching videos that show the process in so much details, you will feel like if you were right next to the teacher. As a special bonus, with this course you will also get the opportunity to learn how to make a "fabric desk organizer" that is a great idea for your office, craft room and it is an amazing gift as well!
Here you will learn how to cut paper and make all project by yourself, or, you can buy a precut DIY kit with all cardboard (chipboard and poster board) needed to make the project and start from that.
Written instructions showing with lots of pictures how to make this fabric treasure box even more unique adding clasp and straps of faux leather are also available! Videos for this option are coming soon as well!
In this course, you will also be able to learn how to design one simple box the size you want, make a simple box and improve it to turn it into something even more unique! These videos were part of the first Cartonnage workshop Basics to make fabric boxes, and now are included in this course as a Bonus for you!

Choose your fabric and let's get started in the joy of Cartonnage!
Your Instructor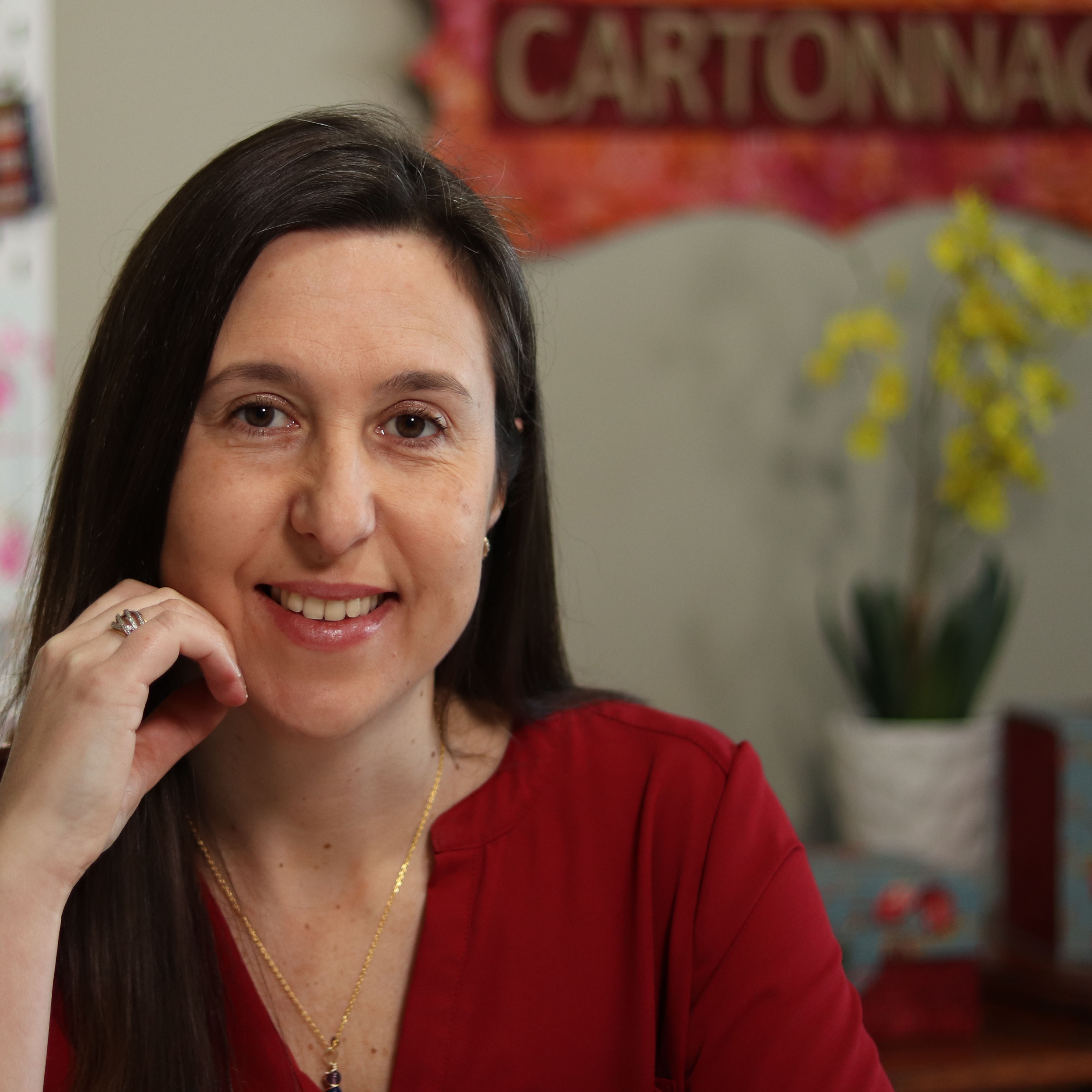 I'm Claudia Squio a Brazilian-American artist living in Michigan and focusing on cartonnage, that is a traditional art of making boxes covered with fabric or paper. I design fabric boxes and cases and teach this amazing technique at quilt stores, quilt guilds and also through my online cartonnage school. I have authored the book "Cartonnage Basics & Beyond – The complete guide to make fabric boxes". Besides creating the pieces and teaching I also develop some DIY kits and tools that can be used for my students to have fun, feel the relaxing power of crafting and facilitate the process of fabric box making.
Course Curriculum
MODULE 1 - Basic cartonnage
Available in days
days after you enroll
BONUS 1 - Making a desk organizer (same shape, without lid)
Available in days
days after you enroll
TESTIMONIALS
See what students are saying

Claudia does an excellent job of describing the process of Cartonnage. The videos are easy to follow and Claudia explains each step in great detail. You can rewind and fast forward to do the work at your own pace. Claudia will answer any of your questions that come up. Cartonnage does not require any specialized tools but the toolkit makes things easier. The kits will save you time because all the paper is already cut out. But you can cut the paper out yourself too. Cartonnage is fun and not difficult to learn! I would recommend these videos for anyone interested in learning about Cartonnage. Betsy
I am not a skilled crafter, but Claudia's online classes made me feel like one! I found the instructions were detailed yet clear and simple to follow. It was fun. I am delighted with the results. It is particularly important for me as a visual learner to see the instructions and then follow with her demonstrations. I could follow and complete each process with ease and confidence step by step. Her attention to detail is valuable in the processes. Cheri

I just finished my Cartonnage small box project, using Claudia's video tutorials and tools. The course was fun and included easy to follow lessons that were broken up into sections that made construction simple. Claudia explains everything, including materials required, how to's that are easy to follow and replicate, and clear and concise videos that show you what you need to do to complete the project. Using Claudia's spacer tool and corner miter tool takes all the guess work out of cutting and placement of pieces for perfect corners and spacing. Cartonnage is a great way to use up fat quarters and scraps that you have in your stash! The result is a wonderful piece of art that you can enjoy yourself or give as a cherished gift! Vicki

See what "local Cartonnage students" are saying
I am dazzled by my new notebook and box! Claudia's teaching is wonderful. She paces the class very well and her instructions are clear and precise. She has a wonderful range of projects. I also like the idea of buying a kit and getting the instructions with very helpful photos. But best of all, she has all of the pieces cut in a kit – WOW!!! That is so fabulous for us that we do not have to worry about cutting out the pieces. Sherri
I LOVE the way my box turned out & now I'll be able to keep track of my cartonnage tools. Claudia is such a good teacher & can't wait to take another class. Karen

Claudia's cartonnage classes have been a thoroughly fun and rewarding experience. Thanks to her patient and supportive approach to teaching; clear, step-by-step instructions (both in class and in detailed printed directions); and complete, reasonably priced DIY kits, I have learned to create a variety of unique items, including boxes, journals, sewing kits, frames, trays, wallets, and more. Because Claudia is so well-organized, she demonstrates cartonnage concepts and steps in a way that is easy to understand and follow, even for a beginner. I highly recommend her classes for anyone seeking an introduction to a technique that offers limitless creative possibilities with simple, inexpensive tools and materials. Jan

First of all, the instructions are exquisite. They are professional in every way and every detail. Second, the kits, numbered, professionally cut and laid out are also exceptional. I don't know other people who teach or present cartonnage classes, but Claudia's kits are top of the line. They are also very reasonably priced. Lastly, and most important, she is highly skilled and present classes effectively. She is professional along with extremely kind, considerate, helpful and very sincere. I love her classes for all those reasons. The bonus is learning these skills and coming away with a finished project I am really proud of. Maria
My sewing kit looks great! I'm really proud of it. She is a great teacher. Keep up the good work Claudia! Looking forward to many more classes with you. Molly

Frequently Asked Questions
What crafting skills do I need to be able to do Cartonnage?
None! No expensive machines, no sewing to work with Cartonnage. In this technique we use paper, fabric and glue as the main material. The tools are very simple and easy to find.
How long do I have access to the course?
This is a members only course, so you will have unlimited access to it as long as you keep your membership active. If you cancel your subscription you will no longer have access to this course (Except if you have purchased separately before the membership program has started).
I am having trouble for sign up or viewing the videos. What should I do?
If you are not able to sign up, apply coupon code, or are having trouble with viewing the videos, please email [email protected] with a description of the problem and we will work on resolving the issue.
This course is closed for enrollment.