FEEL THE JOY OF CARTONNAGE while having lots of fun making this amazing Wonder Fabric Chest
This was the project made by over 40 fabric lovers in the first ever in-person Cartonnage Retreat by the Lake Michigan in May 2022.
If you missed that event, now you can make this great box in the comfort of your home, following the detailed video tutorials that Claudia always prepare with so much care and attention!
Your FIRST DIY KIT is included, so no worries on that! Grab your favorite fabrics and you can start right away!
(You only pay shipping on this kit that includes all the cardboard and hardware needed to make it - over 2 pounds of fun waiting for you! Fabrics not included - use your own favorite ones)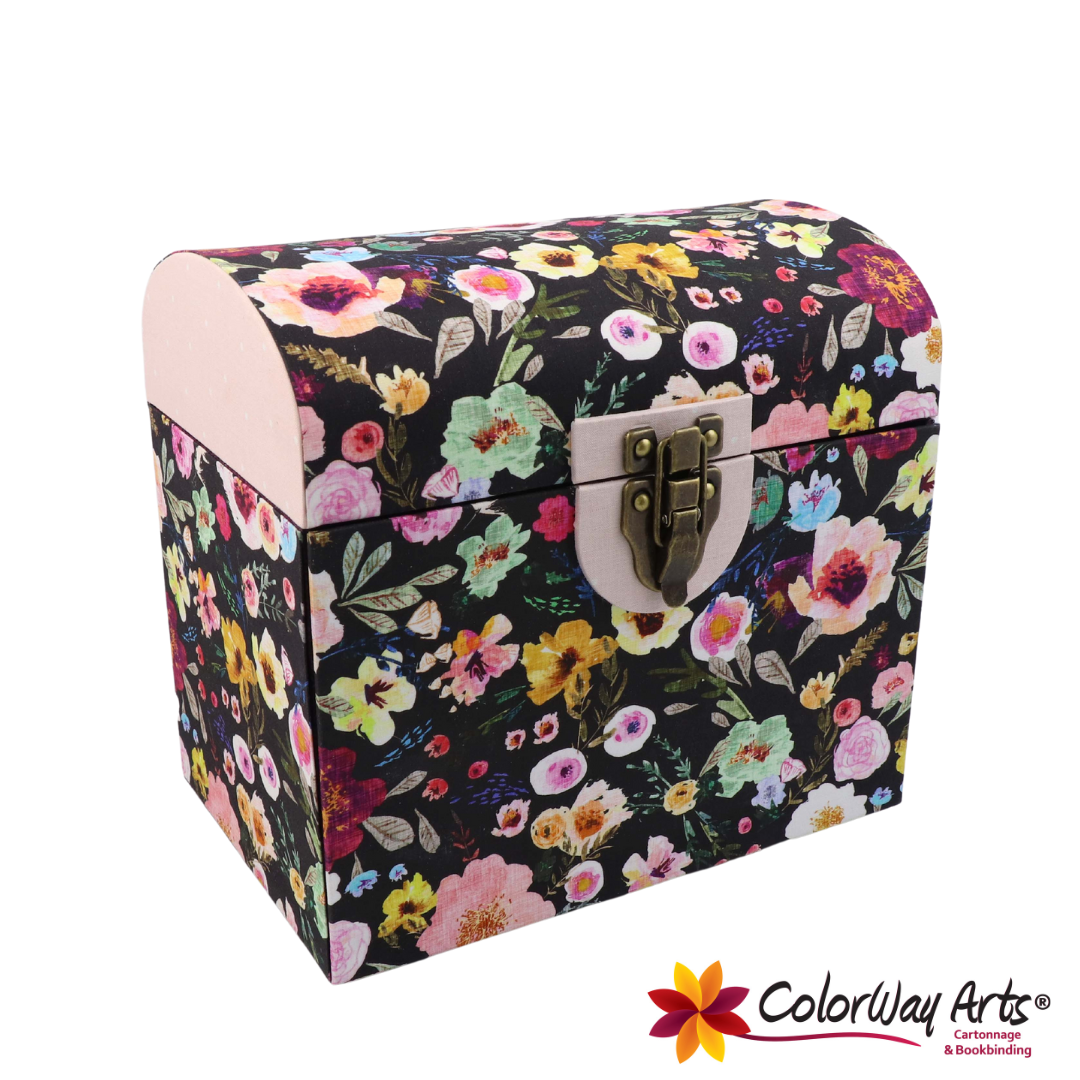 Choose your favorite fabrics
This box allows you to have fun choosing your fabrics and placing them in so many different parts. Picking your fabrics is a great part of the fun!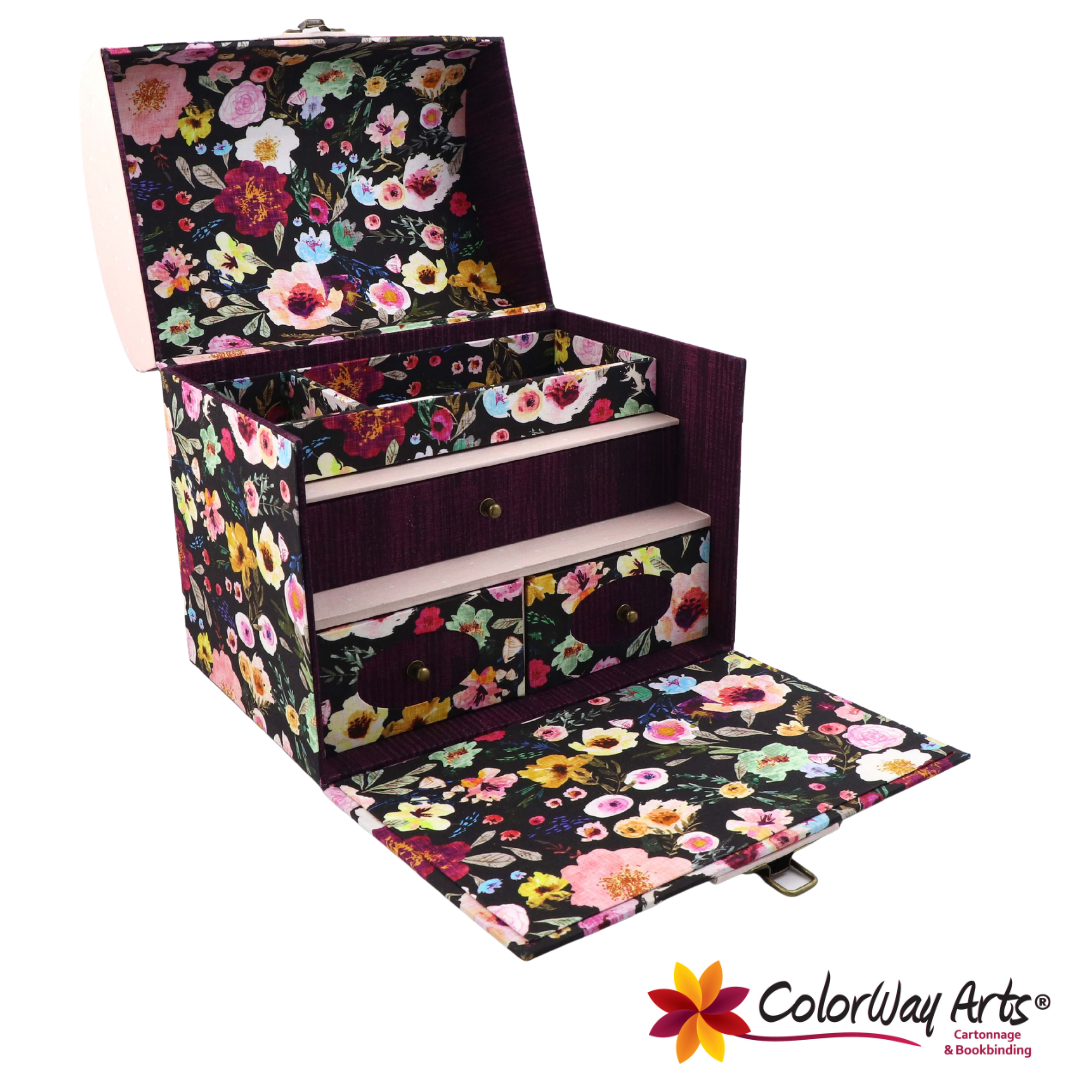 With a tray, a large drawer and two other drawers, this box is so fun to build, and also very functional to use! Perfect for sewing notions, threads, art supplies, jewelry, make up and whatever else you decide to use it for. It will be also a great gift and a box your grandkids will love to receive!

This was the project of the in-person CARTONNAGE RETREAT 2022
This retreat happened from May 20-22, 2022 in Holland, MI, where 40 fabric lovers had lots of fun gluing and making their unique chests!
If you missed, now it's your time to have detailed tutorials and make yours as well!


What is included in the pricing of this ONLINE COURSE?
LOTS OF FUN GLUING FABRIC
COMPLETE VIDEO TUTORIALS SHOWING STEP BY STEP HOW TO MAKE THIS BEAUTIFUL BOX (over 14 hours of fun gluing)
TEACHER'S SUPPORT (yes, your questions will be answered)
LIFETIME ACCESS to this course
1 (one) DIY KIT that you will only pay shipping (DIY KIT includes all cardboard precisely cut in the sizes needed and hardware - fabrics are not included - use your own favorite ones)
DIMENSIONS and templates to make the project all by yourself (note: DIY kits are strongly recommended)
BONUS: 2 Zoom meetings (TBD) for connections, inspiration and answering questions - these meetings will happen in August and September 2022.
Note: Fabrics ARE NOT included in the DIY Kits, you choose your own favorite fabrics!

BEFORE claiming your DIY KIT please check all the information in the course, so you can get your first DIY KIT for free!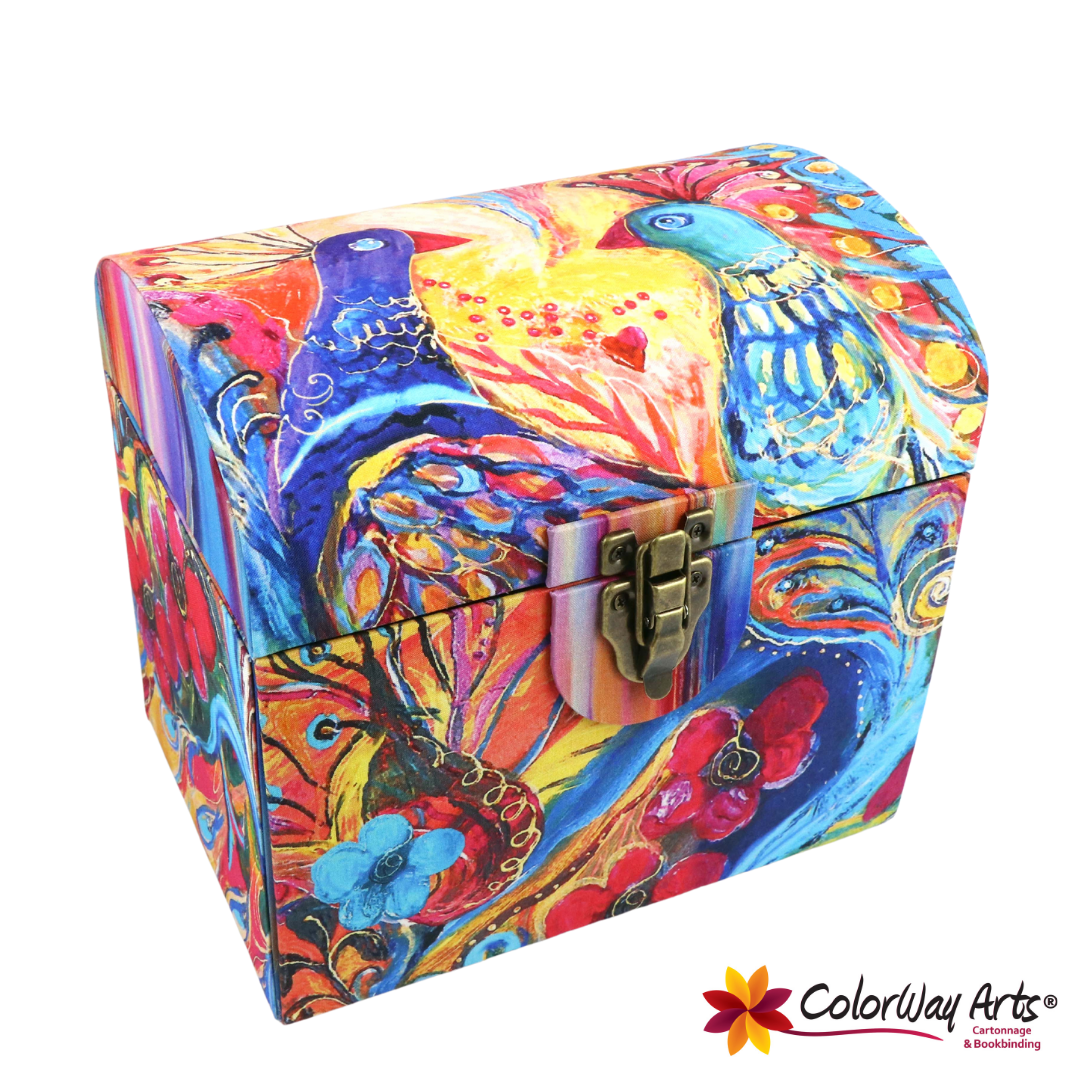 It's a wonderful chest! It measures closed - 10" x 6 7/8" x 9 1/4" (height).
Lots of fun making it!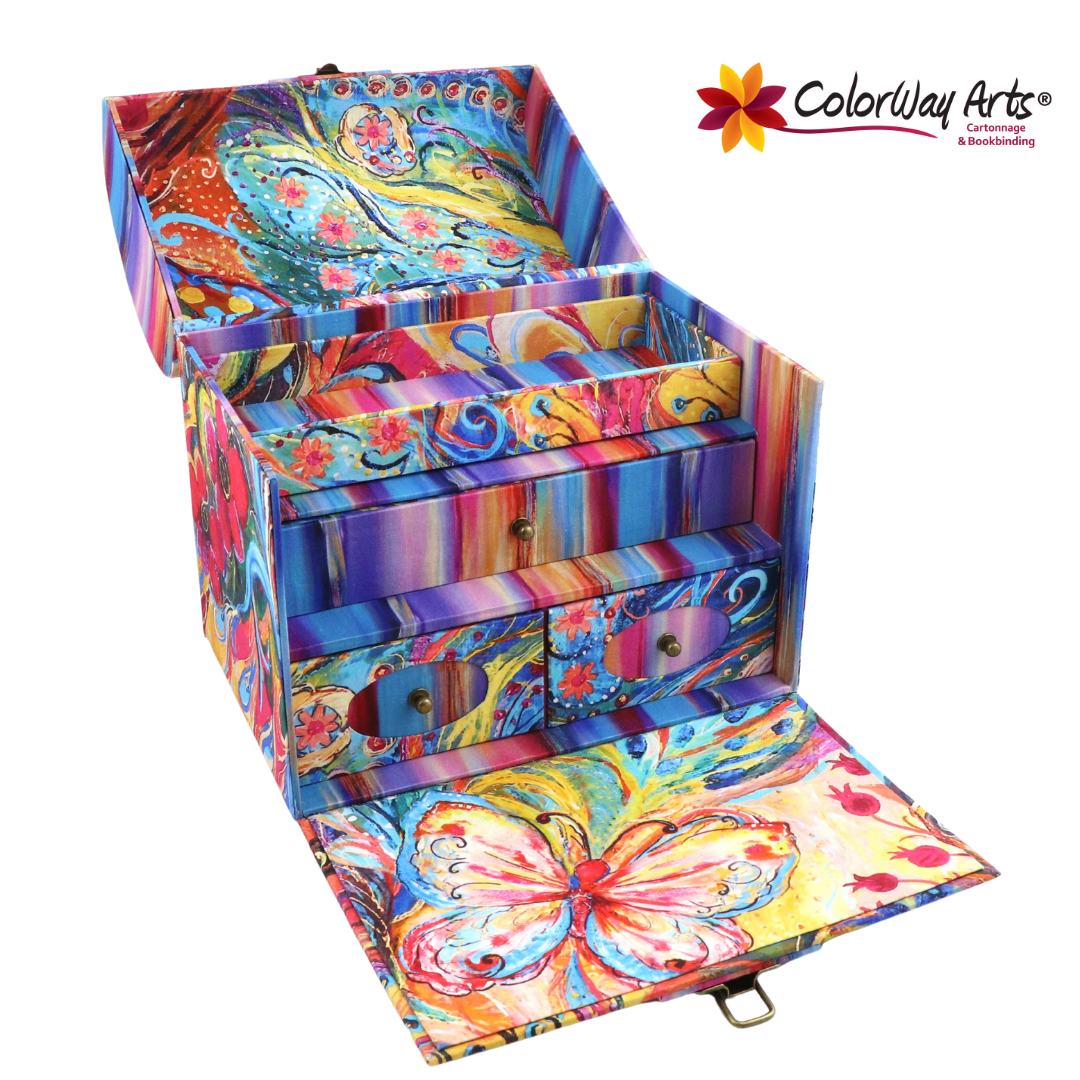 Fun using different fabrics
Neutral, colorful, vintage, traditional, panels.... the choice is yours! You will make the chest out of your favorite quilt fabrics!

I'm Claudia Squio - founder of ColorWay Arts and the teacher here. I've been designing and making cartonnage boxes and other projects for a while, and it feels like forever! I'm the author of the Book Cartonnage Basics & Beyond - the complete guide for fabric box making. I have a real passion for crafts, especially fabric related, I love the texture, the combinations, but I was never good at sewing (don't tell anyone!), so I found gluing fabric relaxing and wonderful. And, most of all, I LOVE teaching and sharing this amazing technique with thousands of fabric/paper lovers through my local and online classes and my Cartonnage Club. I'm a Brazilian-American living in Michigan with my wonderful supportive family - husband and two kids.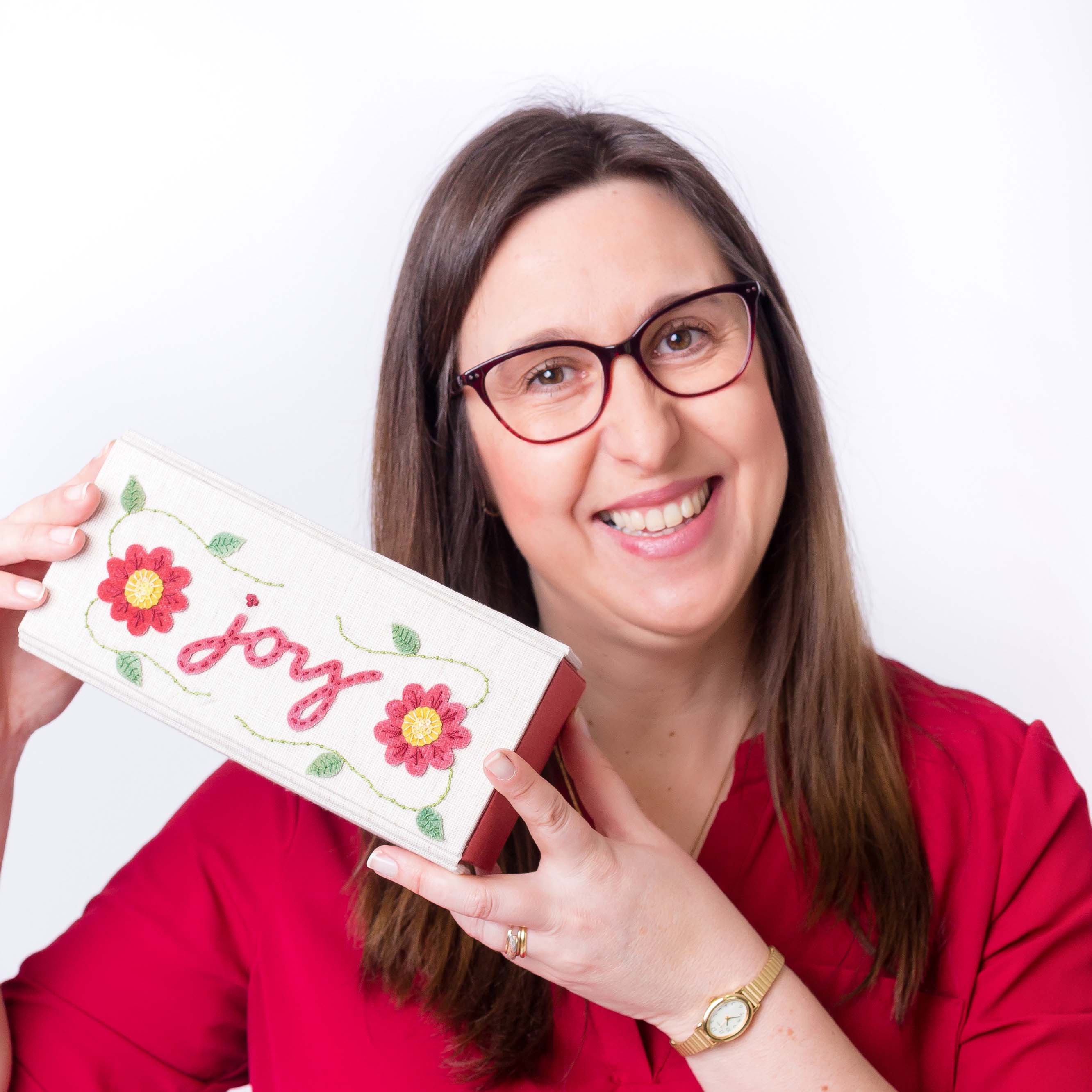 WHAT'S INSIDE?
Check here the content of this course (over 14 h of detailed video tutorials plus a quick written guide)"